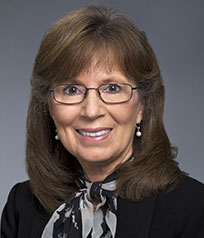 Ms. Linda Ohler is currently an adjunct professor at Marymount University in Arlington, Virginia and a Transplant Quality Consultant. Formerly a QAPI Consultant for Transplant Programs at Georgetown University's Transplant Institute, her primary area of focus was QAPI and CMS Condition of Participation for abdominal and thoracic transplant programs. Ms. Ohler developed QAPI programs for transplantation and VADs while serving as Program Manager for the CHF, VAD and Total Artificial Heart Programs at the VCU Health System in Richmond, Virginia.
With 26 years of experience in transplantation, Ms. Ohler served as a clinical transplant coordinator in heart and lung transplantation and VAD coordinator for 12 years at Inova Fairfax Hospital and Temple University in Philadelphia. She also served as a clinical nurse specialist and nurse manager in kidney, pancreas and islet cell transplantation at the National Institutes of Health (NIDDK) for three years, and on the Board of Directors for the International Society for Heart and Lung Transplantation and for the Washington Regional Transplant Consortium. Linda was inducted as a Fellow in the American Academy of Nursing in 2001 and received the AST Clinician of Distinction Award at ATC in Boston in 2012.
Ms. Ohler has co-edited and written books and chapters, as well as numerous peer-reviewed journals, on transplantation. Her most recent book, Core Curriculum for Transplant Nurses, was nominated for AJN Book of the Year in 2008. She currently serves as Editor in Chief of Progress in Transplantation, NATCO's multidisciplinary journal, as well as co-editor of the e-newsletter for the American Society of Transplantation. She has conducted lectures on transplant-related topics in ten countries.