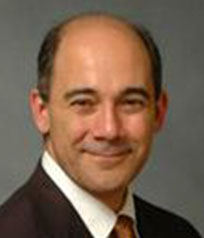 Dr. Raymond Benza is a Professor of Medicine at Temple University, College of Medicine and the James Magovern Chair of Cardiovascular Research at the Allegheny General Hospital, Allegheny Health Network in Pittsburgh, PA, where he also serves on the Executive Committee of the Allegheny Heart Institute and is Program Director for the Advanced Heart Failure, Transplantation, Mechanical Circulatory Support and Pulmonary Vascular Diseases group of the Division of Cardiovascular Diseases.
Dr. Benza served on the thoracic board of the United Network of Organ Sharing (UNOS) and sits on the executive committee for organ transplantation for the U.S. Department of Health and Human Resources. His primary clinical interests are in the evaluation and treatment of advance congestive heart failure, cardiac transplantation, and pulmonary arterial hypertension. He is a funded investigator for the National Institutes of Health and the American Heart Association for his work in cardiac transplantation and pulmonary arterial hypertension. He has been and continues to participate in most major clinical studies of new therapies for the treatment of heart failure, mechanical support and pulmonary hypertension.
Dr. Benza is a fellow of the American College of Physicians, the American Heart Association Council in Clinical Cardiology, and the American College of Cardiology. Dr. Benza is also a member of the American Medical Association, the American Society of Transplant Physicians, and the International Society of Heart and Lung Transplantation. He is a diplomate of the American Board of Internal Medicine with certification in the subspecialty of cardiovascular diseases. He is also a member of the Scientific Leadership Council of the Pulmonary Hypertension Association and Former Chair of the Pulmonary Hypertension Council for the International Society of Heart and Lung Transplantation.
Dr. Benza graduated cum laude from Emory University in Atlanta, GA, where he received his medical degree from the University of Florida in Gainesville, and is a member of Alpha Omega Alpha. He performed his internship and residency at the University of Michigan in Ann Arbor, and served as the Chief Cardiology Fellow at the University of Alabama at Birmingham, later serving as a faculty member there until 2008.