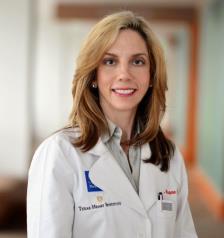 Dr. Roberta Bogaev, Director of Advanced Heart Failure Outreach Program at Baylor St. Luke's Medical Center, is a board-certified specialist in cardiovascular diseases, advanced heart failure, and internal medicine with a background in mechanical engineering. Dr. Bogaev's particular specialty is the management of patients with end stage heart failure through disease management, mechanical circulatory support and transplantation.
Dr. Bogaev received her Bachelor of Science degree in Mechanical Engineering from Virginia Polytechnic Institute and State University in 1987 and her medical degree from the University Of Virginia School of Medicine in 1992. She completed her residency at the University of Virginia from 1992 to 1995 as well as her cardiology fellowship from 1995 to 1999.
Dr. Bogaev has co-authored articles, book chapters, and abstracts in her field and is active in clinical research. She is a member of the Alpha Omega Alpha Honor Society, the American College of Cardiology, the American College of Physicians, the American Heart Association, American Medical Association, International Society for Heart & Lung Transplantation, the Heart Failure Society of America, American Society of Artificial Internal Organs and the Texas Transplantation Society.
As a passionate advocate for the American Heart Association's "Go Red for Women" campaign, Dr. Bogaev is dedicated to the mission that takes action against heart disease and makes heart disease prevention a part of every woman's life.